Accessories
Cables
Cable Types
3 types of cables are compatible with the OS0 sensors. Their physical characteristics are presented in the table Cable Characteristics.
The cable and plug are an element of the sensor ingress protection. Without this, the ingress protection rating may be compromised. Bending the cable at a sharp angle directly after egress from the plug over mold should also be avoided. Sharp bends and high axial stresses on the cable immediately adjacent to the plug over mold may create a moisture ingress path into the connection. Please note the cable minimum bend radius requirements.
Note
We no longer offer Type 1 cables for sale. Please contact your Ouster sales representative for questions regarding available cable lengths, connector types, and termination options.


| Cable | Outer Diameter | Cable Minimum Bend (Static) | Cable Minimum Bend (Flexible) |
| --- | --- | --- | --- |
| Type 1 (Thick) | 10.5mm | 79mm | 158mm |
| Type 2 (Thin) | 8mm | 40mm | 80mm |
| Type 3 | 8.2mm | 41mm | 82mm |
Note
Type 3 Cable has an imprint that states "Type 3" on it whereas, Type 2 does not have any identifiers.
Note
Ouster recommends using a right angled connector cable for use cases wherein the cable needs to be bent within the first 5 cm between the connector and the rest of the cable.
Electrical Characteristics
Ouster has characterized the cable resistance and contact resistance of our cables at room temperature. This can be found below:


| Cable | Maximum Cable Resistance (Ω/m) | Typical End to End Resistance for 5m Cable (Ω) | Admissible Nominal Operating voltage (V) |
| --- | --- | --- | --- |
| Type 1 (Thick) | 0.110 | 0.45 | 24 |
| Type 2 (Thin) | 0.110 | 0.45 | 24 |
| Type 3 | 0.042 | 0.3 | 12 / 24 |
For full sensor functionality, a minimum of 9.5 V must reach the sensor. To compensate for losses through wire resistance, a higher voltage must be provided to the interface end of the cable, which may be the Interface Box or the pigtail wires. If the sensor is below this voltage for at least 1 second, the INPUT_VOLTAGE_LOW error will be triggered.
The following graph can be used as a guide to determine the appropriate input voltage to the sensor connector for your desired cable length. The values on the graph were calculated using idealized cable resistances derived from the AWG system and assumed maximum power draw from the sensor.
Interfaces
All Interface Boxes are provided with a DC power port and an 8-pin modular jack for Ethernet. Currently Ouster offers two types of Interface boxes to support both 12V and 24V.
Interface Boxes (Standard) provided with Type 1 and Type 2 cables are assembled with integral cables for connection to Ouster's sensors. This cable cannot be disconnected from the interface box, as there is no connector available.
The Interface Boxes (12V Compatible) with Type 3 cables are provided with an output connector and a separate connectorized cable for connection to Ouster's sensors. These Interface Boxes also have a new GPS input connector capable of accepting operating TTL levels originating in a separate GPS device containing static electricity dissipation circuitry.
Example: GPS Module compatible with Ouster Sensor GPS Module.
Note
If you need support to configure the GPS to works with our sensor please contact support@ouster.io.
Warning
RISK OF FIRE OR ELECTRIC SHOCK. DO NOT CONNECT THE GPS CONNECTOR DIRECTLY TO AN ANTENNA.
7.2.1 Interface Box 24V Compatibility (Standard)
The Interface Box that accompanies the OS0 is designed to allow the sensor to be operated for test and evaluation purposes. It terminates the interface cable from the sensor, allows it to be powered up and provides access to the sensor gigabit Ethernet Interface via a standard RJ45 connector. DC Power to the sensor is provided to the Interface Box by the accompanying 24V DC Supply.
Note
The Ouster Interface Box is a support tool for use in laboratory environments to assist customers in evaluating Ouster's LiDAR sensor products and in the development of software. The Interface Box is not protected from ingress of moisture or solid particles and is not intended for use outdoors.
Cable Connection and Pinout
The OS0 can be operated without the use of an Interface Box. For more information on the Ouster Cable Pinout please refer to Direct Cable Connection and Pinout
7.2.2 Interface Box 12V (Compatible)
This type of interface box is engineered for users who require the use of 12V DC power supply. These interface Boxes also have a new GPS input connector capable of accepting operating TTL levels that originate in a separate GPS device containing a static electric dissipation circuit.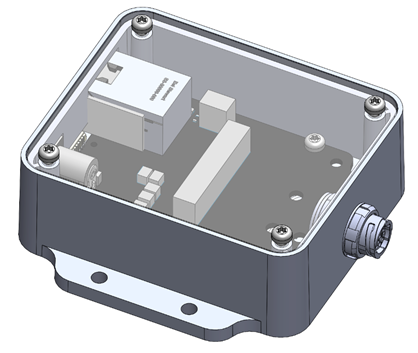 Interface Box Specification
1 - This feature is optional for Rev 06 Sensor and above and is compatible with Type 3 Cables only. Standard Interface box without this connector is also available and is provided with Type 1 and Type 2 cables for connection to Ouster's sensor.

2 - Ethernet jack. RJ45, gigabit speed (1000base-T).

3 - VIN Barrel Jack. Use with a 2.5mm inner diameter, 5.5mm outer diameter barrel plug.

4 - User replaceable 5A fuse. Use only Littlefuse #0891005.

5 - VIN green LED indicator (D2), fuse-protected VIN header (J10) and Ground header / jumper storage (J14).

6 - Onboard MAXM15067 buck powering VCC_3P3|5. VCC_3P3|5 supplies the onboard LEDs and pullups, and is user accessible via headers J2 & J7. Header J5 is used to select the buck's output voltage: install a jumper for 3.3V, leave open for 5V. WARNINGS: Max allowable user consumption is 210mA. Ensure power to the Interface Box is disconnected when changing buck output voltage via J5.

7 - 3.3kΩ pullups to VCC_3P3|5 and green LED indicators for MULTIPURPOSE_IO and SYNC_PULSE_IN. Install a jumper on the respective header (J8 or J9) to enable the pullup.
8 - 0.1" pitch, 4x2 pin header J7. GPS_TX (Pin 1) is only connected to connector J2; it is not connected to the sensor.
9 - 6-pin JST SH/SR connector J2. VCC_J2 (Pin 2) is connected to VCC_3P3|5 by installing a jumper on header J6. GPS_TX (Pin 6) is only connected to header J7; it is not connected to the sensor.
Connectors
Connectivity Guide:
RJ45: Ethernet connection to a computer

6-PIN JST SH/SR: GPS connector port

Barrel Jack: 24V DC power supply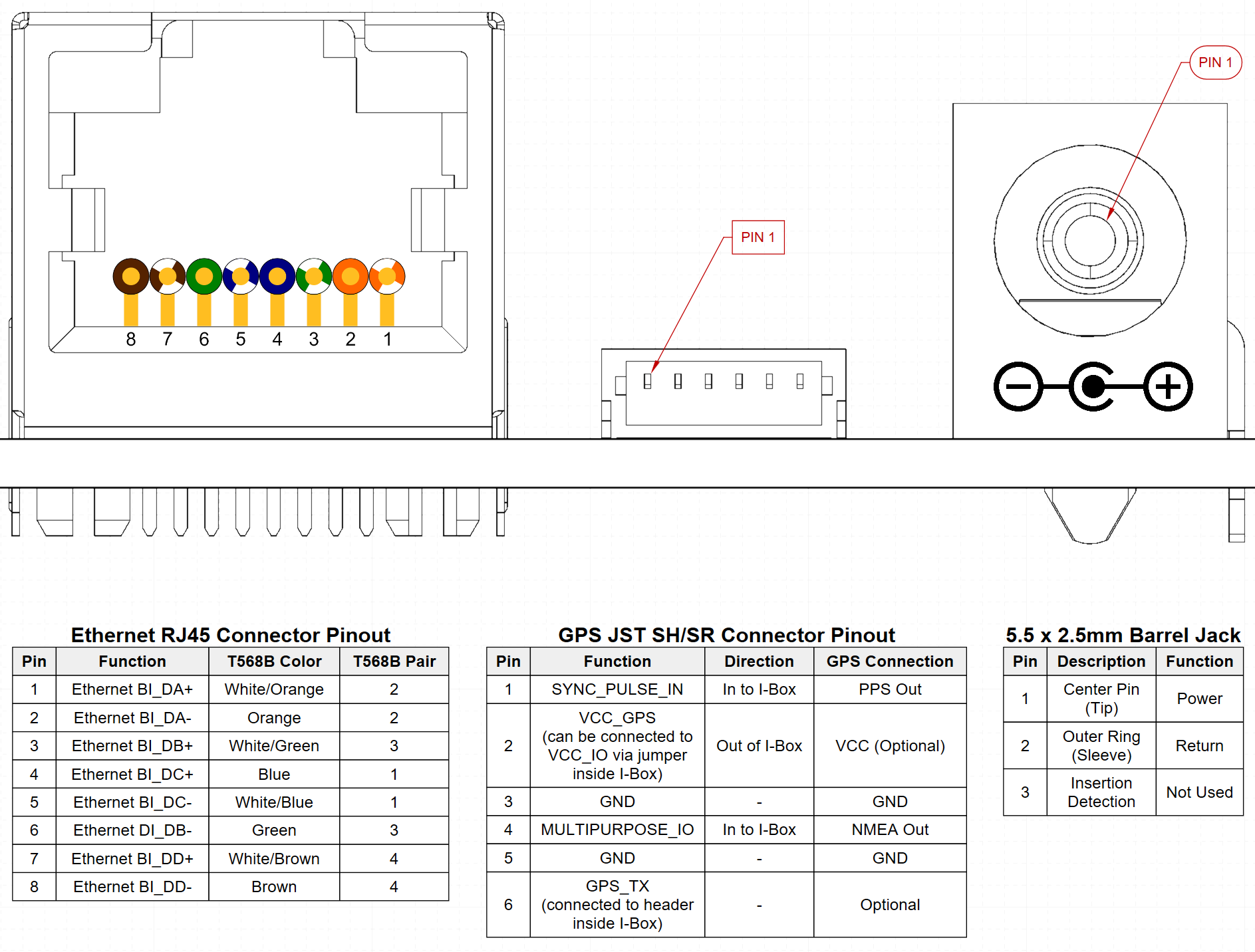 Electrical Characteristics
The Type 1 and Type 2 cable Interface Boxes are rated 24 Vdc, 1.1 A and supports all Ouster sensors.
The Type 3 cable Interface Box is rated 12 Vdc, 3.3 A and 24 Vdc, 1.1 A. This Interface Box supports 24V operation on all Ouster sensors, and 12V operation for Rev 05 and above sensors only.
Overcurrent Protection
Type 1 and Type 2 cable Interface Boxes Interface Boxes are provided with thermistor type overcurrent protection to supplement the internal overcurrent protection in the sensor. The thermistor is soldered in place and is not user replaceable.
The Type 3 Interface Box contains a user replaceable 5A mini blade fuse. When replacing this fuse, use only a Littelfuse - Type 891005 fuse. Use of any other fuse may lead to a risk of fire.
Power Supply
The Interface Box ships with a 24 Vdc power supply and a cordset suitable for use in the U.S and Canada. Type 1 and Type 2 Interface Boxes are only designed for use with this 24 Vdc power supply and the Type 3 Interface Boxes are designed to operate from a 12 Vdc source, but a 12 Vdc power supply is not provided by Ouster.
To select a power supply, it should:
Have a 12 Vdc output voltage rating.

Be capable of delivering at least 3.3A.

Be identified or marked as having a Limited Power Source (LPS) output.

Be safety certified by an acceptable test house in the local region of use using either IEC 60950-1 or IEC 62368-1 (or the EN or other national equivalent).

Be provided with a power supply cordset appropriate for the power supply's input and the socket outlets available in the lab space.

Be provided with a 5.5 mm OD barrel type output connector suitable ID for a 2.5 mm OD inner pin.

Selecting a Power Supply Cord/Cordset
If purchasing a power supply locally, it should be supplied with an appropriate power supply cord or cordset for use with the power supply. If it's necessary to select a power supply cordset for the Ouster supplied power supply, it should be safety certified by a test house acceptable to the local region of use, supplied with an IEC 60320, Type C6 cord connector to mate with the power supply and a plug for connection to an AC outlet with an earthing contact/pin.
Environmental Ratings
All Interface Boxes are suitable for use indoors only in clean, protected environments at temperatures between -20 °C and +50 °C. Interface Boxes are not designed for use outdoors or in environments that are not protected from dust, moisture, or high humidity.
Mounting
The interface box may be mounted on a table top or on a wall (or similar vertical surface) not higher than 2 m above the floor. Use not less than two (2) screws (M4 SHCS 10mm or longer are recommended) to secure the interface box to the mounting surface.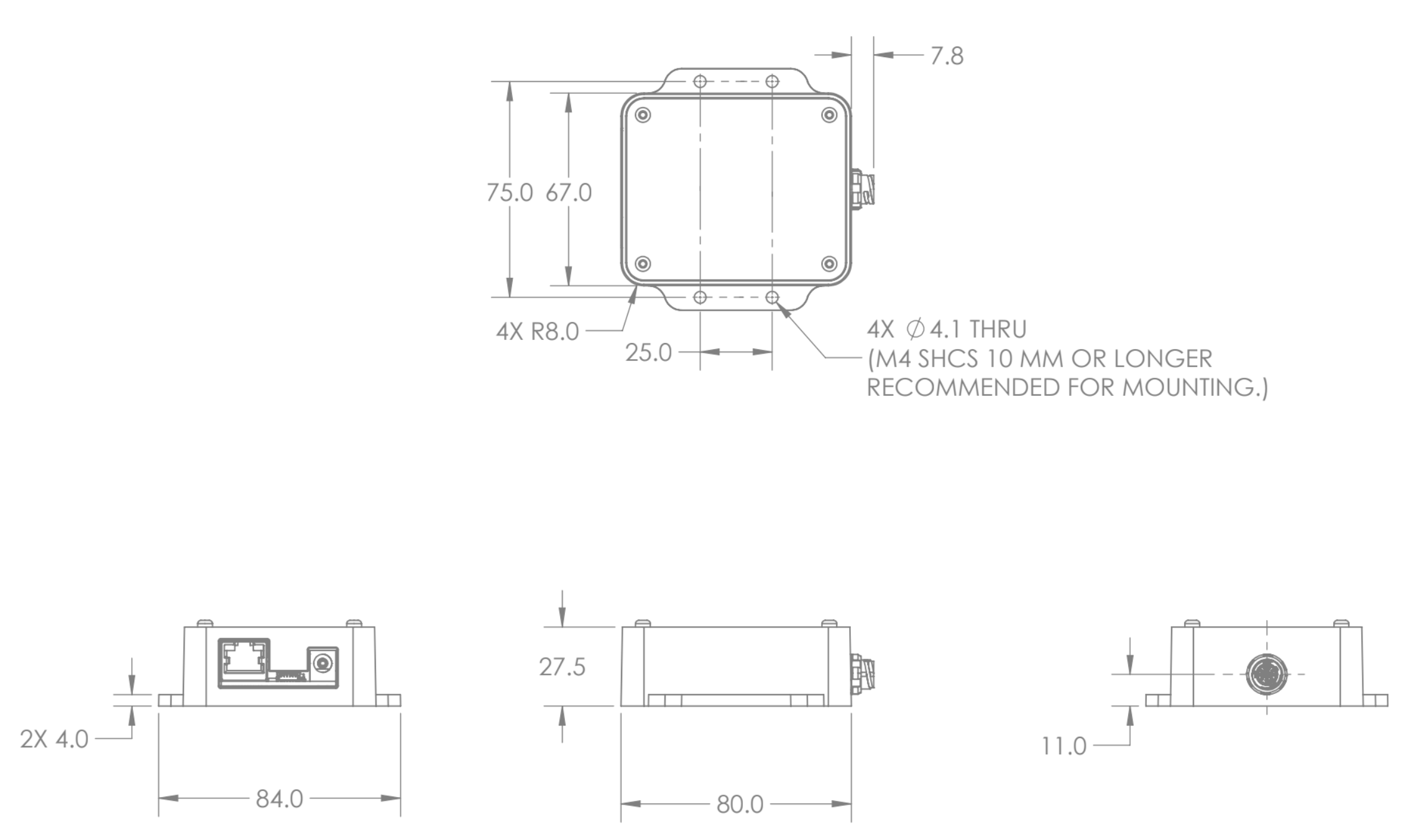 For additional OS0 sensor CAD files refer to Lidar Product Details page.